Bath Volunteers for Service presents our 6th Annual Trivia & Tacos Competition Fundraiser.
Welcome to the 6th Annual Trivia & Tacos Competition Fundraiser! Get ready for an evening filled with exciting trivia challenges and mouthwatering tacos. Join us on Friday, Nov 10, 2023 at the St. George's Fellowship Center at 3204 Ridgewood Road, Fairlawn, OH 44333 as we gather for a night of fun and fundraising.
Put your knowledge to the test in our thrilling trivia competition. Gather your friends or form a team and compete against other trivia enthusiasts. With a wide range of questions spanning various categories, it's sure to be a battle of wits and laughter.
The fun begins at 5:30 pm when doors open. All food, beer, wine, margaritas, non-alcoholic beverages and dessert are included in your ticket price. TRIVIA COMPETITION begins at 7:30 pm presented by Sporcle Live. Prizes and Raffles throughout Trivia Competition (Cash Only please)!
Seating is limited, no technology devices are allowed and you must be 21 or older to participate.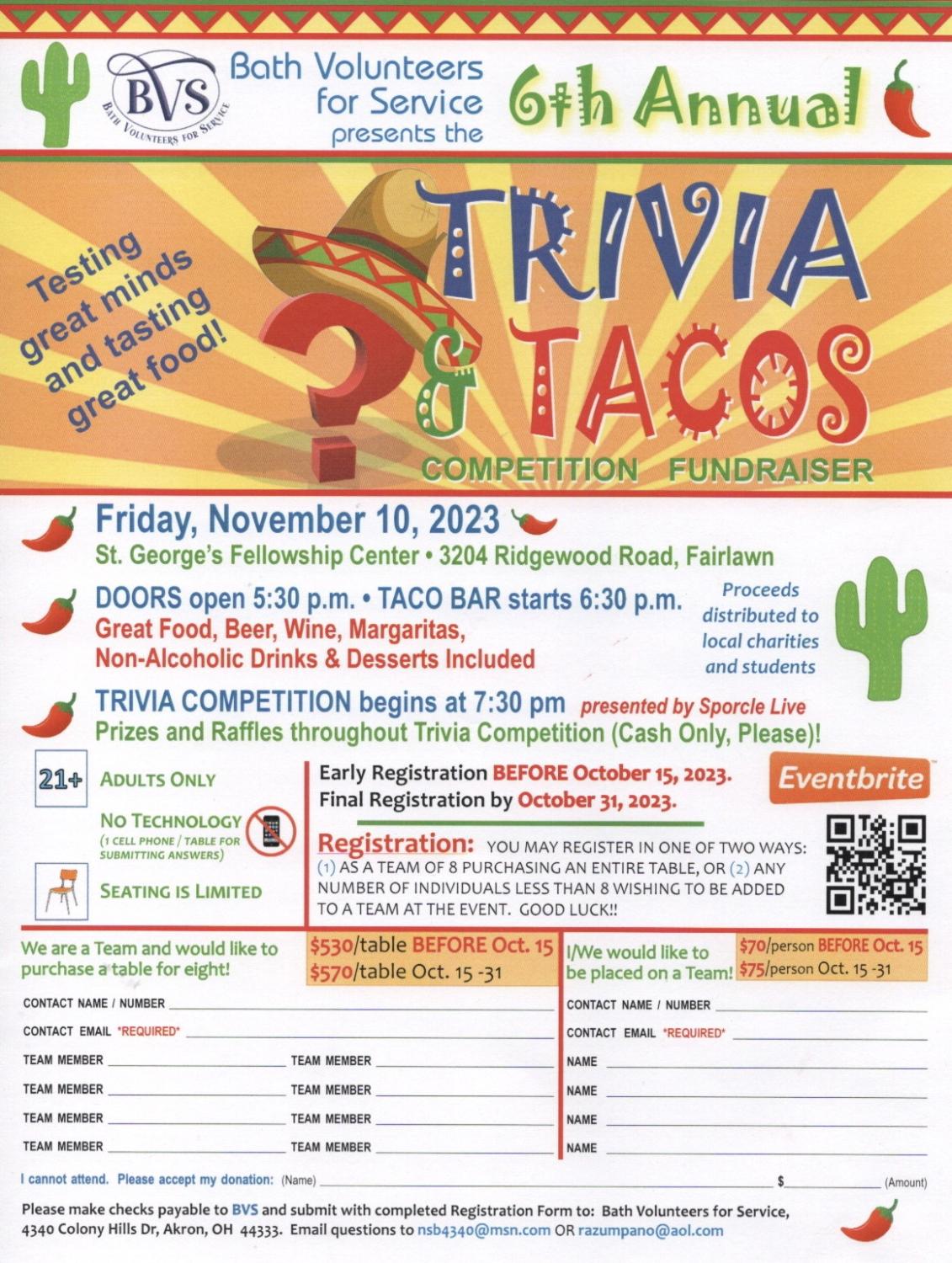 To register, click here to download this form and pay by check.  To purchase a ticket online via Eventbrite click here
This Bath Volunteers for Service fundraising event supports the BVS Mission of carrying out a system of volunteer service which shall be of the greatest benefit in bettering community living for adults and children. 100% of the proceeds will be granted to local non-profits in need and local scholarships to area students.